Draiman's Plan for LA's Good Government
My name is YJ Draiman and I am running for Mayor of Los Angeles 2017

"Let us take back our city and make it Los Angeles governed by the people for the people"

Our current economic crisis is the number one concern of every American. It is time we exercise our constitutional right.
It is a government by the people for the people. It makes no difference whether you are a Democrat, Republican, Libertarian or any other political affiliation, and it is time America's citizens take control of their country starting from the city government to the county, state and the federal government. All elected officials must be accountable to their community and its residents. Our current budget crisis was brought about by the current administration – do you want this to continue and lose city services. I am a soldier in the battle to restore fiscal sanity for our district and our city, improve the economic well being of the district and the welfare of all residents.

Capitalism has not failed. The people in charge of the economy have failed Capitalism!!!!! Capitalism has been hijacked by career politicians, who disguise themselves as representatives of the people.

Enough is enough; we need to replace as many incumbents as possible, business as usual must stop here and now, government treasury should not be the personal piggy bank of the politicians.
We need new representatives in our government, representatives whose allegiance is to the residents of their district, representatives who care about Los Angeles surviving the current economic crisis and becoming better for it.
We must reduce big government - The bigger the government the less efficient it is.
Our energy consumption is growing rapidly; we must produce a hundred percent of our energy needs in our own country.
We have the manpower and technology, let us utilize it.
We must encourage new businesses, create more jobs and stabilize the economy.
Government cannot create jobs. Government should be reduced by at least fifty percent, streamline government, enact laws, rules, regulations and taxation that are friendly to small business. Encourage investment in our economy and workforce.
This economic crisis is a national emergency. People are losing their jobs and homes, and we must establish a mechanism similar to the Manhattan project of World War 2, with an all out genuine national effort to resolve the current economic crisis which threatens to destroy our country.


Transparency and accountability is my motto

YJ Draiman for Mayor of Los Angeles 2017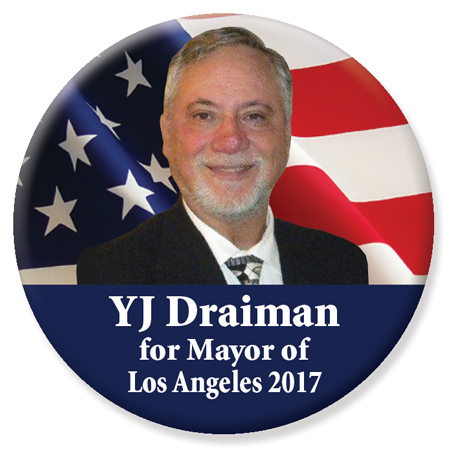 Los Angeles Elections 2017
YJ Draiman is committed to bringing greater transparency and accountability to city government by opening it to the taxpayers it serves, ending the influence of lobbyists, and creating internal oversight to ensure public funds are serving the people of LA.
His plan to restore faith in city government reflects a lifetime of fighting for greater transparency and accountability on all levels. Whether advocating to rein in the influence of lobbyists, introducing comprehensive ethics legislation, or pushing for greater disclosure among elected officials, Draiman believes the most useful tool to guard against corruption and waste is opening government to the taxpayers it serves.

End the Influence of City Lobbyists
Close the revolving door between government service and lobbying
An appointment to city government or a city board should be about serving the people of LA, not about building a client list for your next job. As one of his first acts in office, Draiman will sign an executive order shutting the revolving door that allows government appointees to lobby the administration or department where they worked. The order will ban any mayoral appointee to City Hall or a city department from returning to lobby their colleagues for two years. It will also ban any public board appointee from going back to lobby the public organization they served.
Create an online database of lobbyist activity
Draiman will create an easy-to-use website that allows anyone to track and find information on lobbyists – who they are lobbying for, what they are lobbying for, and which government officials they have lobbied.
Refuse donations from city lobbyists
Draiman refuses donations from those who are registered to lobby city government.
Empower the Inspector General to Root Out Waste and Corruption
A strong and independent Inspector General (IG) who roots out waste, fraud and abuse in city government is critically important, particularly in times of economic recession. Draiman will push for three changes to empower the IG and ensure that the office remains free from political pressure.
Expand the IG's oversight authority
Currently only certain city agencies are overseen by the Inspector General. IG oversight should be expanded to include all agencies that have no independent watchdog, including the LA Park District and the Public Building Commission. The IG's authority should also extend to the City Council, but Draiman believes that decision must be left squarely in the hands of the City Council.
Protect the IG's budget from political pressure
The IG's office should have a budget set at no less than 0.2 percent of the overall city budget and should have full discretion over how to use that money. Setting the number at the current funding level will protect the office from annual threats to its budget and other political pressures.
Ensure City Hall compliance with the IG
Draiman will ensure that the IG's office gets all relevant information from all parts of the executive branch of city government, and he will make clear that any efforts to block the IG from getting information will not be tolerated.
Strengthen the Board of Ethics
A strong and independent Board of Ethics is an essential tool to ensure accountability in city government. The Board should be focused on providing legal opinions and guidance that holds all government officials – including City Council members – to the highest standards, not as a venue to find wiggle room in ordinances. Ethics investigations should be handled by an empowered IG's Office
Draiman will introduce in his first six months a major overhaul of the ethics ordinance. It is an outdated document that is vague and full of loopholes that allow for liberal interpretations to skirt laws. The Board's records and information should also be fully transparent to the Inspector General so that the IG's office is able to use the information to root out waste and corruption.
Ensure City Contracts Go to the Most Competitive Bidder
City contracts should go to the lowest responsible bidders who provide the best services – not to the best connected.
Rein in no-bid contracts and increase transparency
Maximum transparency can help ensure that political considerations are not allowed to mix with contract decisions. No-bid contracts should be rare and reserved for extraordinary situations, and the Non-Competitive Review Board (NCRB) will become more transparent and user friendly by making its meetings public and putting all contracts, meeting notices, agendas and minutes online. Draiman will require all individuals involved in any stage in the development of specifications for a no-bid contract to disclose their role to the Inspector General, and will require that any significant modifications to no-bid contracts be subject to the same review as the original contract. Emergency contracts should be reserved for true emergencies and limited to 90 days or the length of the emergency. When contracts are handed out based not on low bids but more subjective criteria (like RFP's), the work of the city's evaluation committee must be made completely transparent.
Ensure an independent procurement department
Draiman is committed to hiring professionals to run the Department of Procurement Services, which contracts for more than $3 billion of goods and services annually. These leaders should be given independence to ensure that political consideration play no role in the awarding of contracts.
Crack Down on Abuse of Minority-and Women-Owned Business Status
Abuse of LA's Minority and Women Owned Business Enterprise Certification process is well documented and severely hurts the upstart businesses it is supposed to help. There should be zero tolerance for companies that commit fraud and use "front" companies to achieve women- or minority-owned status under the program. Draiman will go after these abusers and bar them from receiving any city business for twelve years.
Make the Zoning and Business License Process More Transparent
When a Los Angelinos ships a package, she can monitor it online with a simple tracking number. But if she wants to monitor the progress of a license to open her new business, she faces a byzantine bureaucracy that allows those with clout to move to the head of the line. Draiman wants to open the process so that the residents who request zoning changes and the officials who make those decisions are operating in the best interest of the city.
Create an online portal to track zoning decisions
Draiman will put all zoning and business license applications online from the time of filing in an easily-searchable database so that every citizen can monitor progress and hold city government accountable. Final zoning decisions will also be posted online with the legal reasoning behind each.
Disclose conflicts among those who make zoning decisions
Draiman will work with the City Council to pass legislation requiring all who participate in the zoning approval process – including councilmen – to publicly reveal any potential conflicts of interest on his or her part or on the part of a family member.
Set clear timelines for city action
The current bureaucracy often leaves business owners in the dark about the length of time they will have to wait for their business license. This uncertainty slows economic growth and discourages business investment in the city. Draiman will task the Department of Business Affairs and Consumer Protection with establishing clear deadlines for every part of the business licensing process, and implementing those systems within one year. A clear time-limit will help to eliminate the need for businesses to hire "facilitators" who often try to speed up the process through their connections at City Hall, and will give businesses the certainty they need to invest in LA.
Overhaul the City's Hiring Process
Today, in response to past abuses, city hiring is subject to external oversight and control. While third-party oversight adds cost and complexity to the hiring process, it is in place to ensure that city hiring is fair and legal.
That oversight will only end when the city has a human resources program that complies with the law and meets the needs of LA residents and taxpayers.
Draiman's plan will give LA's hiring process the fresh start it needs by establishing a clear precedent: political considerations will never override merit, for both hiring and other employment decisions. Draiman will consistently send the message from the top that political influences in employment decisions will not be tolerated. A history of patronage has cost taxpayers millions in wasteful appointments, and has damaged the morale of the thousands of hard-working city employees.
An independent human resources expert at the helm
The Commissioner of Human Resources must have a long record in the field and be given total freedom from political influence. The Commissioner will be given clear power to alter departmental hiring decisions that put the candidate's politics over his or her credentials.
Use an outside, independent firm to manage civil service hiring
One of the best ways to remove politics from the hiring process is to contract out hiring of civil service employees to a private company through a competitive bidding process. These professionals will need to have an in-depth understanding of the hiring needs for its service area as well as contractual and legal compliance requirements.
Ensure hiring compliance efforts remain independent in the Inspector General's office
The best rules and intentions are meaningless if a strong, independent enforcement and compliance function is not in place. Draiman agrees with the recent action that moved the hiring compliance function from the Office of Compliance to the IG's Office. This helps ensure that the City has the strongest possible effort in place to comply with the rules mandating that politics play no part in employment decisions.
Enhance Compliance With the Freedom of Information Act
The city's implementation of the Freedom of Information Act (FOIA) is difficult to navigate, discourages requests, can require multiple steps to find and gain access to information and needlessly delays access to public documents. Citizens and businesses should not need lawyers to craft FOIA requests and secure information.
Specifically, Draiman's plan will mandate four compliance and reporting standards:
Performance targets should be set to beat statutory deadlines for fulfilling information requests.

The city will identify and publicly report all city denials of FOIAs or requests for extensions of time to comply with those requests.

The city will provide a central point of technical assistance that helps citizens and businesses prepare requests and access information.

Performance reporting should include the effectiveness of technical assistance and should include user surveys on access to information.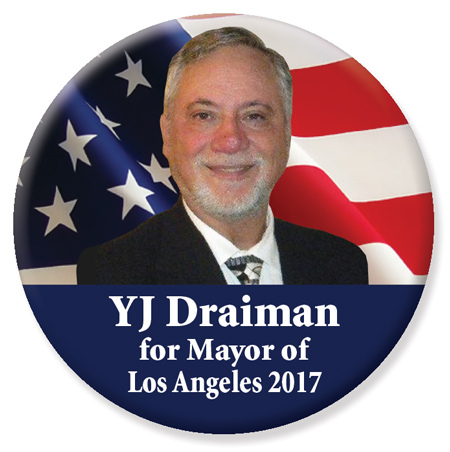 Businesses flee Los Angeles as economy tanks and revenues decrease
Within the past months I spoke to numerous business owners in LA to discuss industry growth, where there are over 20,000 businesses. While speaking to the business folks and community leaders, it was apparent that many businesses represented were struggling to pay the bills and just keep their business afloat. They are struggling to stay open, let alone expand and hire more employees. These problems reach far beyond businesses in LA they are very real struggles for thousands of families and workers in Los Angeles and across the county.
I am very concerned with what we can do to create more jobs. I was a small businessman myself and I know the inherent difficulties businesses face trying to keep a business up and running, let alone with City Hall getting in the way making it harder and more expensive. The policies coming out of LA's City Hall have failed, and it is time to fix it.
Just recently I was talking to some business owners and I asked what is would be like if every business in LA added just one more employee. There are over 20,000 small businesses in the Los Angeles area. Think about what a difference it would make in our communities, and to our families if each of these businesses were able to hire somebody who is unemployed.

It is the small businesses, the "mom and pop shops," that employ our families and drive the economy of our communities, and I need the opinions of these folks that are on the front line. That is why I have devoted endless hours and days to find out what could be done do to persuade every business to hire just one more employee.
I recently inquired of some businesses asking what the city could do to help them grow their business. What law, tax or regulation is keeping you from hiring? Is there a city policy that is hurting rather than helping your business? What can the city do to help you expand?
I started receiving feedback. I received responses that ranged from concrete ideas on how to reform the city tax code to repealing burdensome city laws and regulations that are impeding on their business expansion.
With the responses I received, I decided to meet with additional interested businesses owners in our community to further discuss their ideas, where I discussed the critical issues hindering job growth in LA and what City Hall can do to get LA working again. Business owners and leaders from a wide array of industry discussed what is keeping them from hiring one more worker. Additional input is required in order to come up with viable plan.
The frustration of these business owners is palpable, and I share this frustration. In these tough economic times, LA City Hall needs to work for our job creators, not against them. I am dedicated to creating concrete solutions to creating jobs here at home. As I will take these ideas to LA City Hall, I will continue to update you as I make progress in the plan of creating jobs for businesses and job seekers in the City of Los Angeles.
When the City of Los Angeles promotes existing businesses and entice new businesses to the city, it increases the tax base, reduces unemployment and it takes people off the government financial support. It also increases spending by the newly employed which again brings more revenues to the city coffers. When the city provides quality services, reduced bureaucracy and cooperation with business everybody gains.
YJ Draiman
http://draimanformayor2017.com